The History of QC Lodge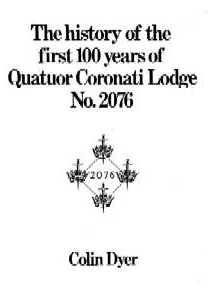 Colin Dyer, a member of QC Lodge, wrote a booklet to celebrate the Centenary.  It can be read chapter-by-chapter below.
QC Centenary – Chapter 1 T
1891. Growth and decline of freemasonry, Old Charges,Robert Crucifix, Masonic Archaeology Institute;,lodge name petition, Warren in Bechuanaland, consecration delayed, consecration, Masters' address.
QC Centenary – Chapter 2
1891-1916. Start not auspicious, Correspondence Circle, 31 members, overseas members, St John's cards, summer outings, Speth as organiser, committees, Speth's death, Miss Speth as Secretary of QCCC, premises, masters, more premises, wartime, 'enemy' exclusions.
QC Centenary – Chapter 3
1916-1934. New premises, paper shortages, concern over meal prices, 1917 the first history, economies, telephone removed, bequests, more premises problems, summer outings, financial losses, AQC printed up to date, membership matters, Prestonian lectures.
QC Centenary – Chapter 4
1934-1951. Membership falls, bank overdraft, a dull period, few new members, war conditions, early meetings, subscription arrears, the Australian exchange problem, rising interest in research, Miss Johnson retires, meals reintroduced, building repairs, many and varied papers, Knoop.
QC Centenary – Chapter 5
1951-1970. Change of printers, deficits, aging QC members, recruitment campaign, Transactions up to date, change of accountants, longer papers allowed, masters photographs resumed, Antigrapha resumed, premises again, Harry Carr as treasurer, Correspondence Circle growth, Norman B Spencer prize, ongoing research by members now normal, inflation, more publications, 10,000 members.
QC Centenary – Chapter 6
1970-1986. Rising costs, change of printers, postal costs, Questions and Answers, lodge divests commercial interests, Harry Carr resigns, QCCC subscription rates increase, lodge and company tensions, 12,500 members, meetings in Provinces, SRIA move out, moving, computerisation of membership.
QC Centenary – Chapter 7
Members of the lodge.
Join or Renew your Membership of Q.C.C.C.
Join or renew
---
Make a Donation
Your support will allow us to extend the research material and research services currently provided. Thank you.