Quatuor Coronati is the world's premier research lodge. Established in 1884 and consecrated in 1886, the lodge's founders wished to advance an evidence-based approach to the study of Masonic history and research into the origins of freemasonry. Their approach was intended to replace the more imaginative writings of earlier authors and was referred to as the 'authentic school' of Masonic research.
Quatuor Coronati adopts the same principles today. We hold meetings incorporating lectures five times a year, usually at Freemasons' Hall at Great Queen Street in London; publish our lectures, other research papers, and 'notes & queries' in Ars Quatuor Coronatorum – 'AQC', the annual Transactions of the Lodge, which is distributed internationally; arrange conferences and symposia on different aspects of freemasonry; and share our research and encourage scholarship via the QC Correspondence Circle – 'QCCC' – established more than 130 years ago.
Whether you are based in North America, Latin America, the UK, Europe, Africa, India, Asia, Australia or New Zealand, we would be delighted if you would like to become a member of the QC Correspondence Circle.  QCCC is an international community and is open to everyone interested in Masonic and historical research.
Freemasons on the Frontier: Boston, September 2020 Conference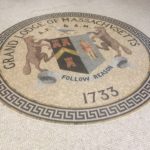 Our next American Conference is taking shape fast.  The dates are confirmed as 18-20 September 2020 and the venue is the iconic Grand Lodge of Massachusetts in Boston.  The Conference program is nearly finalised and attendees will be able to listen to and question a range of world class speakers discussing a range of fascinating topics. The Conference Web page and Booking Site are now online, and the full program will be published shortly.  Please watch this space as we provide more information over the coming weeks! 
Freemasons in the Transatlantic World – Conference Report
What a fantastic Conference! The George Washington Masonic National Memorial in Alexandria VA proved to be an outstanding venue for our most recent American Conference. Just click on the links to read the reports in Freemasonry Today and Philalethes.  Our thanks and congratulations to all those involved, especially the team at the GWMNM; please click on 'Recent Symposia' for more details.
Subscriptions and Renewals
You can check your membership status by going to Find My Account.  If you have not done so, you may need to Register; an automated email will confirm your membership / subscriber number and you can log in using that information. If your membership commenced after 30 November 2018, you will receive AQC 132 at the end of 2019. If you are missing a recent edition of AQC, we have a small stock available, including AQC 131 (covering the year to November 2018). These can be purchased online by clicking here.
If you have any difficulties with your subscription, please let us know by emailing subscriptionsmanagement@warnersgroup.co.uk referencing QCCC and giving your subscriber number; please copy queries@quatuorcoronati.com so that we can follow-up if required.
Please don't forget to make certain that we have your email address and to tell us if this changes. Your email is used for the majority of our communications and to preserve security changes should be confirmed to our subscription manager. 
Other Developments...
QC and QCCC flyers and brochures can be downloaded by clicking on the links on the Local Secs webpage.
QC's Research Resources contains facsimiles of and introductions to a number of important Old Charges and Masonic Manuscripts, plus the early Minutes of the Grand Lodge of England ('the Moderns'), and the early Minutes of the Grand Lodge of England according to the Old Institutions ('the Antients'). The website also contains indexes to past volumes of AQC, Book Reviews, and many sources of further information.
Our research service for QCCC members can be accessed here.
Recent back issues of AQC can be purchased online. Just click here.
It is notoriously difficult to avoid errors in updating and maintaining websites.
If you spot a broken link or another fault, please email queries@quatuorcoronati.com. Thanks!
Under the General Data Protection Regulation all societies need to give their members an account of the personal details they hold and the use to which they will be put. So: we hold your name, address, email, phone number (where supplied), date of joining and method of payment on a database maintained securely by Warners Group Publications plc on our behalf. We use this information for the purpose of communicating news of upcoming events etc., for general communications with members, to facilitate subscriptions and renewals, and for accountancy/audit. The information held on each member can be viewed by that member once they have registered and is open to amendment by such member.  No details are released to any other organisation. A copy of our current subscriptions data retention and disposal policy is available by emailing us at queries@quatuorcoronati.com.
Join or Renew your Membership of Q.C.C.C.
Join or renew
---
Payment to Dine
Please pay amount specified on Dining Form.
---
Make a Donation
Your support will allow us to extend the research material and research services currently provided. Thank you.