Quatuor Coronati is the world's premier research lodge. Established in 1884 (and consecrated in 1886), the lodge's founders wished to advance an evidence-based approach to study Masonic history and research the origins of Freemasonry. Their approach was intended to replace the more imaginative writings of earlier authors and was later referred to as the 'authentic school' of Masonic research.
Quatuor Coronati adopts the same principles today. We hold meetings incorporating lectures five times a year, most commonly at Freemasons' Hall, Great Queen Street, London. Publish our lectures, other research papers and 'notes & queries' annually in Ars Quatuor Coronatorum – 'AQC', the Transactions of the Lodge, which is distributed internationally. Arrange conferences and symposia on different aspects of Freemasonry and Masonic research. And seek to share our work with and encourage research via the Correspondence Circle – 'QCCC'.
The Correspondence Circle was inaugurated in 1887 and is an international community. Whether you are based in North or South America, the UK, Europe, Africa, Asia or Australasia, we would be delighted if you would like to become involved with Quatuor Coronati. The first step is to join QCCC which is open to everyone interested in Masonic research or historical research more broadly.
Major Events in 2018
Our QC Conference – 'Freemasons in the Transatlantic World'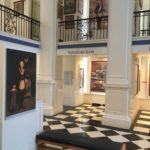 The magnificent George Washington Masonic National Memorial in Alexandria, VA, a unique and wonderful building just over the river from Washington DC, is the venue for our Conference from 14-16 September 2018. The focus is on the transatlantic influences in the first century of freemasonry in America and the Caribbean. QCCC members benefit from preferential booking and discounted entry. Please click HERE to see the Conference Brochure or download our QC Conference Flyer.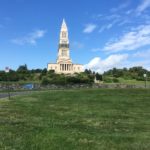 The Conference is a 'must-go' event for those who wish to understand the beginnings of American freemasonry, network with QC/QCCC members including Brent Morris, Arturo de Hoyos, Andreas Önnerfors, James Campbell, Adam Kendall and Ric Berman, and hear from and debate with world-class speakers. Attendees can also participate in a discussion regarding the date of the first Grand Lodge – 1717 vs.1721 – at which Susan Sommers and Ric Berman will set out their contrasting positions. The Conference features a 'Universal Lodge' and a talk explaining the Masonic symbolism in DC, and delegates have the option to tour the Memorial and Washington, and to attend a convivial dinner on Saturday evening.
The full Conference program can be downloaded here.   Click through to book your ticket!
'1717 & All That' – Symposium
We hosted more than 200 visitors at our Symposium at FMH in London on 15 February, with short papers presented from the floor in addition to the four main speakers: Professors Andrew Prescott & Susan Sommers, arguing that the first Grand Lodge was not formed in 1717 but 1721; and John Hamill & Dr Ric Berman, contending the reverse. The papers will be made available in the next issue of QC's Transactions – AQC 131. Videos of the principal talks have been posted to YouTube and can be accessed here:
Andrew Prescott   Susan Sommers  Ric Berman   John Hamill
The papers delivered on the day and received subsequently will be published in AQC 131, which will be available from December and mailed to all members of the Correspondence Circle.
Subscriptions and Renewals
We have designed a new Subscriptions Website with Warners, our subscription service provider, and this is now live. Joining is straightforward. Renewing members are invited to Register (the button is on the top right of the Subscription Page) and set up a self-managed account. Once you have completed registration you will receive an email to confirm your subscriber number. Please log in using that information to renew – we have kept the cost unchanged, and please tick the email communication option. If you have any difficulty, please email us at QCCC@warnersgroup.co.uk and copy queries@quatuorcoronati.com.
Under the General Data Protection Regulation, all societies need to give their members an account of the personal details they hold and the use to which they will be put. So: we hold your name, address, email, phone number (where supplied), date of joining and method of payment on a database maintained securely by Warners Group Publications plc on our behalf. We use this information for the purpose of communicating news of upcoming events etc., for general communications with our members, and to facilitate subscriptions and renewals. The information held on each member can be viewed by that member once they have registered and is open to amendment by such member.  No details are released to any other organisation.
Other Developments…
We have a new and extremely elegant monogram tie. Buy yours now! Please click here for details.
QC and QCCC flyers and brochures can be downloaded by clicking on the links on the Local Secs webpage.
Research Resources include a set of QC Antigraphas containing facsimiles of and introductions to a selection of Old Charges and Masonic Manuscripts, and the early Minutes of the Grand Lodge of England ('the Moderns') and the Grand Lodge of England according to the Old Institutions ('the Antients'). The section also contains Book Reviews. QC's research service for members can be accessed here.
The QC Website
It is notoriously difficult to avoid errors in updating and maintaining websites. If you spot a broken link or another fault, please email queries@quatuorcoronati.com. Thanks!
Join or Renew your Membership of Q.C.C.C.
Join or renew
---
Make a Donation
Your support will allow us to extend the research material and research services currently provided. Thank you.