Quatuor Coronati Lodge: Our Next Meeting
Quatuor Coronati Lodge meets five times a year on the second Thursday in November (Installation); third Thursday in February; second Thursday in May; fourth Thursday in June; and second Thursday in September. Lodge meetings are usually held at Freemasons' Hall, Great Queen Street, London. 
Thursday, 24 June 2021
'John Sherwood and his Neo-Union Manuscripts'
Hugh O'Neill
A written copy of the delivery paper can be viewed here: AQC134.04 O'Neill
Hugh's presentation of the paper is now available for viewing on QC's YouTube channel.
Andreas Önnerfors, Professor in Intellectual History, will be hosting a Zoom Webinar Q&A at 4.00PM UK time (5.00PM Western Europe). Please register in advance:
https://uu-se.zoom.us/webinar/register/WN_mPS2lF9wTyKFb0Haz6qSjA
After registering, you will receive a confirmation email containing information about joining. The webinar is limited to a maximum of 100 participants. If you miss or are unable to log in on the day owing to the maximum number of participants having been reached, please don't worry, we will be posting the Q&A to our YouTube channel afterwards.
Please note that the paper (and all other AQC papers), are copyright QC/QCCC and should not be reproduced or circulated.
Questions and comments on the paper should be submitted in advance or within 24 hours of the Q&A via email to editor@quatuorcoronati.com.
The Speaker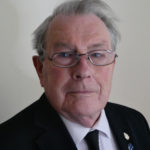 A freemason for over sixty years, Hugh O'Neill was initiated in Tyrian Lodge, No. 253, Derbyshire, but now lives in the South  of England and is a Regional Mentoring and Membership Officer in the Province of Sussex. Hugh specialises in researching freemasonry in West Sussex, which dates back to at least 1696.
Join or Renew your Membership of Q.C.C.C.
Join or renew
---
Payment to Dine
Please pay amount specified on Dining Form.
---
Make a Donation
Your support will allow us to extend the research material and research services currently provided. Thank you.