QC in Latin America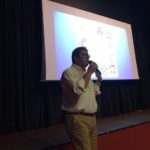 We have an extremely active QCCC contingent across Latin America and an excellent multi-lingual QCCC Facebook group run out of Brazil; this is accessed here.
Please email LatinAmerica@quatuorcoronati.com for more details.
Our Regional Secretary for Latin America and your main contact point is Emilio Elesbao.
He can be reached at LatinAmerica@quatuorcoronati.com.
QC's Summer Lecture Series with the GL of California
We worked with the Grand Lodge of California to produce a series of live online lectures and Q&As in August and September 2020. The presentations were given by members of QC (Mike, Brent, Mark and Ric), and QCCC (Hans and Ben), and were recorded and are now available online on demand on the GL of California's Masonic Speakers Series'  Archive Page.
QCCC-specific quality-assured regalia is available in Latin America, the US, and Canada via Macoy Publishing and Supply Company – please click here.
A current list of Local Secretaries in Latin America is available here: LatAm Local Secs – 2019.
Join or Renew your Membership of Q.C.C.C.
Join or renew
---
Payment to Dine
Please pay amount specified on Dining Form.
---
Make a Donation
Your support will allow us to extend the research material and research services currently provided. Thank you.