Attendance and Dining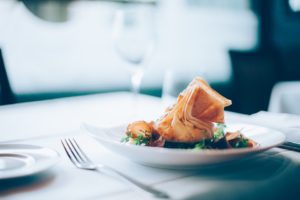 The United Grand Lodge of England requires those attending QC Lodge meetings to be a member of a lodge under UGLE jurisdiction or of a grand lodge it recognises. Our dress code is undress regalia (Craft), dark suit and tie. Where we host non-masonic speakers or open the lodge to non-Masons, we close or call the Lodge off for the lecture and welcome everyone to attend. There is no dress code for visitors on such occasions.
All attendees are invited to join us afterwards for drinks and dinner. Our lectures are generally held in Freemasons' Hall, Great Queen Street, Covent Garden, London, and we dine nearby. The formalities are minimal and maximise the opportunity for convivial conversation.
Those wishing to dine should let us know at least a week in advance of the meeting. It may not be possible to accept bookings and payment on the day since the venue generally requires advance notification.
The options for booking and paying for dining are below. The cost of dining is currently £30.00.
The same bank details can also be used for making donations to QCCC to support our work.
Option 1: Download and complete the QC Dining Form and mail to the address specified, together with a cheque payable to QCCC Limited.
Option 2: PayPal. See the QC Dining Form. Payment can be made via credit card or by PayPal by clicking here or on the 'Payment to Dine, Pay Now' button. Please add £1.00 per person to cover transaction costs and please notify us by email (address below) that you have paid and give your name, the names of any guests, details of Masonic rank, and any dietary requirements.
Option 3: Bank Transfer to QCCC's bank account (see below). Please notify us by email (address below) of the amount transferred, giving your name plus those of any guests, details of Masonic rank, and any dietary requirements. Please give '[your surname] DINING' as the bank payment reference.
Dining notifications should be emailed to dine@quatuorcoronati.com
Payments should be made by the Friday prior to the meeting and cannot be refunded after that date.
BANK DETAILS FOR UK PAYMENTS
Account name: QC Correspondence Circle
Account number: 36116688
Sort Code: 60-30-06
Reference: '[your Surname] DINING'
BANK DETAILS FOR INTERNATIONAL PAYMENTS
QC Correspondence Circle
IBAN: GB95NWBK60300636116688
BIC: NWBKGB2L
Bank: National Westminster Bank
Branch: BLOOMSBURY PARR'S, LONDON
Reference: '[your Surname] DINING'
Join or Renew your Membership of Q.C.C.C.
Join or renew
---
Payment to Dine
Please pay amount specified on Dining Form.
---
Make a Donation
Your support will allow us to extend the research material and research services currently provided. Thank you.