Attendance and Dining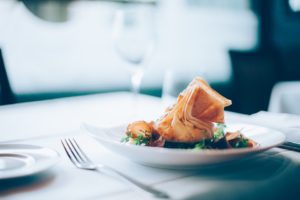 We welcome all Freemasons to join us at every meeting. The United Grand Lodge of England requires that anyone attending a Lodge meeting is either a member of UGLE or a Grand Lodge recognized by UGLE. Our dress code is undress regalia, white gloves, lounge suit and tie. We occasionally have non-masonic speakers and on such occasions we call the Lodge off for the lecture and welcome anyone, masons and non-masons, to attend. There is no dress code for non-masonic visitors on such occasions.
We warmly invite those attending the Lodge meeting to join us afterwards for drinks and dinner. Our lectures are held in Freemasons' Hall, Great Queen Street, Covent Garden, London, and we dine in a nearby restaurant. The formalities are minimal and maximise the opportunity for convivial conversation. We ask those intending to attend the meeting and who wish to dine to let us know in advance.
To book to dine at the next Lodge meeting please email: dine@quatuorcoronati.com or contact us by post using the QC Dining Form which is available here a few weeks before the next meeting. Lodge meetings and lectures are free to attend. Dining is £40 per person (inclusive of wine) and should be booked and paid for prior to 4.00 pm on the Friday before each meeting.
If you wish to book for subsequent meetings, please click here and complete the form.
We look forward to seeing you.
Join or Renew your Membership of Q.C.C.C.
Join or renew
---
Make a Donation
Your support will allow us to extend the research material and research services currently provided. Thank you.