Regalia, Books and QC Merchandise
Correspondence Circle members are entitled to wear regalia specific to QCCC and Quatuor Coronati Lodge.
QC Breast Jewels, Pins and Ties
QC breast jewels (enamelled and plain) are usually available through Toye, Kenning & Spencer and Macoy Publishing & Masonic Supply Co.  Examples of the enamelled versions of the Members' and Local Secretaries' jewels are shown below. The jewels are highly recommended and may well become collectors' items as have earlier QC and QCCC jewels. Toye Kenning is currently putting in place a new website and QC regalia is not currently available from that source.
The jewel with the light blue ribbon is for members of the QC Correspondence Circle. That with the dark blue ribbon is for members of the Circle who are Local Secretaries or past Local Secretaries. A red ribbon recognises full members of Quatuor Coronati Lodge and Honorary Members of the Lodge. QCCC Jewels can be worn in all regular lodge meetingl.
Members can also purchase QC lapel pins and cufflinks of any colour, and QC ties, which can be worn both inside and outside lodge. We have a new and elegant monogram tie, as well as our traditional tie.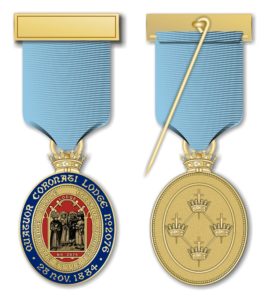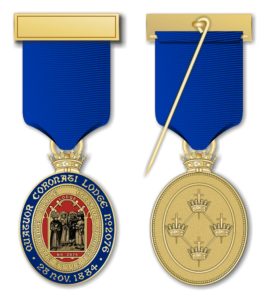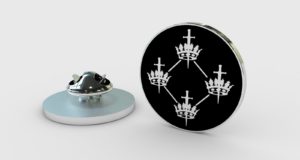 Back Copies of AQC and other Masonic Publications
Recent back issues of AQC are available here. We also recommend that members visit Lewis Masonic or AbeBooks for a wider range of back issues of AQC. Members purchasing Masonic books through Lewis Masonic should quote their QCCC subscription number.
Other Masonic Regalia 
Toye, Kenning & Spencer is one of the oldest British manufacturers of regalia for all Masonic orders. QCCC members receive a 10% discount on purchases of Masonic Regalia (excluding QCCC regalia and other QCCC items, which are already discounted). Purchasers of non-QCCC items and regalia (individual or corporate) should quote their QCCC membership number (if writing or calling) or enter the code 655 on the website.
US and Canadian members may wish to visit Macoy, one of the oldest Masonic suppliers in North America, which offers a vast range of competitively priced regalia. The Macoy Publishing and Masonic Supply Company has been making hand-crafted, hand-stitched regalia in America since 1849. As the oldest Masonic publishing firm in the United States, Macoy also offers an extensive range of Masonic publications.
Join or Renew your Membership of Q.C.C.C.
Join or renew
---
Payment to Dine
Please pay amount specified on Dining Form.
---
Make a Donation
Your support will allow us to extend the research material and research services currently provided. Thank you.