The Founders of the Lodge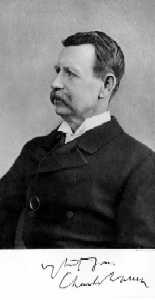 The Warrant to establish Quatuor Coronati Lodge, No. 2076, was issued on 28 November 1884 but Consecration did not take place until 12 January 1886. The delay was caused by Sir Charles Warren, the WM designate, being despatched on a diplomatic and military mission to Bechuanaland (now Botswana); his return being delayed until late 1885. The short biographies below are based on those in Volume I of the Transactions.
One can sense the desire to formalise the study of Freemasonry from the Oration given at the Consecration by The Revd Adolphus Woodford, one of the Founders: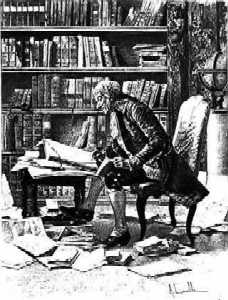 If the intellectual and cultured study of what Freemasonry is, has been, and may yet be, to ourselves and to the world is in any way promoted by our efforts, believing, as we do, that such a study, thoughtful and prudent, zealous yet discriminating, is essential to a proper understanding of masonic archaeology and masonic formulae, we shall indeed rejoice. For thus it may chance that we shall be enabled to rescue contemporary Freemasonry from the charge frequently brought against it, that it sacrifices an intellectual study of Freemasonry proper to the more pervading requirements of the social circle, and that it is too easily contented with a routine of ritual on the one hand, and the pleasing exercise of hospitality on the other. Whether these ideas and aims of ours are destined to be successful time alone can show.
QC's Transactions is still published annually over 120 years later and one of QC's first acts was to establish the Correspondence Circle, which could be joined for the then sum of 10/6d per annum.
The founding members' names appear in the following order:
Sir Charles Warren (1840-1927)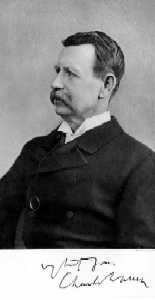 Born 1840; entered Her Majesty's Service as a Lieutenant in the Royal Engineers in 1857; Captain, 1869. Conducted the Palestine Exploration 1867-70. In 1876 settled the boundary line of the Orange Free State and Griqualand West (now part of the South African Northern Cape Province). Gazetted CMG in 1877 and appointed Special Commissioner in the Northern Cape Province. Active service in the Griqua-Kaffir War and promoted Lieut.-Colonel in 1877. Administrator of Griqualand 1879; Surveying Instructor at Chatham 1881. Served in Egypt and recovered the bodies of Professor Palmer and his companions in 1882. In South Africa in command of the Bechuanaland Expedition in 1884 and created GCMG 1885. Commanded at Suakim but recalled in 1886 to re-organise the London Police Force as Chief Commissioner. Author of Underground Jerusalem; The Temple or the Tomb; and numerous papers to learned societies.
William Henry Rylands (1847-1922)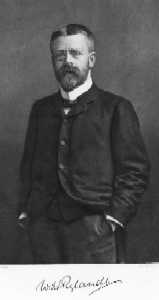 Born 1847; Fellow of the Society of Antiquaries; Member of the Asiatic Societies of London and Paris; Secretary of the Society of Biblical Archaeology.
Initiated in 1872 in Faith and Unanimity Lodge, No. 417, Dorchester; joined Lodge of Antiquity, No. 2, London, in 1881, and exalted in Chapter of St. James, No. 2, London, in 1882.  Grand Steward, 1887.
Author of Freemasonry in the xvii century in Warrington, Chester and many other works and contributions to the Masonic press, as well as papers on antiquarian matters.
Robert Freke Gould (1836-19

15)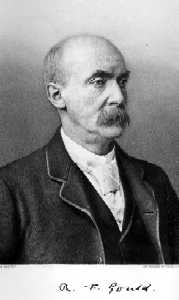 Born in 1836; entered Her Majesty's Service in 1855 as Ensign, 86th Foot; Lieut., 31st Foot, 1855; served in the North China Campaign, 1860 (medal and clasp); Barrister-at-Law, 1868. Initiated 1855 in the Royal Navy Lodge, No. 429 (now No. 621), Ramsgate, and successively joined the following lodges: 1837, Friendship, No. 345 (now No. 278), Gibraltar; 1858, Inhabitants' Lodge, No. 178 (now No. 153), Gibraltar, as first WM on its revival; 1858, Meridian Lodge, in the 31st Foot, No. 1045 (now No. 743), elected WM in 1858-9; 1859, St. Andrew's-in-the-East, No. 313, Poona, East Indies, (Grand Lodge of Scotland); 1859, Orion-in-the-West Lodge, No. 598 (now No. 415), Poona; 1863, Northern Lodge of China, No. 832 (now No. 570), Shanghai; elected WM in 1864; 1864, Royal Sussex Lodge, No. 735 (now No. 501), Shanghai; 1866, Moira Lodge, No. 92, London, serving as WM in 1874-5. 1837, exalted Melita Chapter, No. 437 (now No. 349), Malta; 1859, Scottish Chapter at Poona; 1863, Zion Chapter, No. 570, Shanghai, Z in 1863; 1875, Moira Chapter, No. 92, London, Z in 1878. Provincial Senior GW of Andalusia and in 1880 Senior Grand Deacon of England. A member of the Special Committee to enquire into and report to Grand Lodge on the action taken by the Grand Orient of France. Served on the Board of General Purposes 1876-9 as an elected member, and from 1880-3 by nomination of the GM; elected member of the Colonial Board from 1876-79. Numerous contributions to the Masonic press; author of The Four Old Lodges, 1879; The Atholl Lodges, 1879; and The History of Freemasonry 1883-87.
Adolphus F. A. Woodford (1821-1887)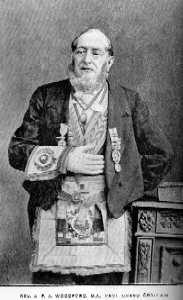 Born in 1821; gazetted Christmas Day, 1838, Ensign and Lieutenant, Coldstream Guards, retired in 1841. Matriculated at Durham University 1842, BA and Licence of Theology (1847), MA thereafter. Ordained Deacon in 1846, curate of Whitburn,1846-47,;ordained priest, 1847, and presented to the Rectory of Swillington, Leeds, which he resigned in 1872. 1852, Chaplain to Sir John Lowther, Bt., High Sheriff of Yorkshire. Initiated in the Lodge of Friendship, No. 278, Gibraltar, in 1842; subsequently joined the following lodges:- Marquis of Granby, No. 124, Durham, 1842, WM 1844-5; Philanthropic Lodge, No. 304, Leeds, 1854, WM in 1858-9; and Lodge of Antiquity, No. 2, 1863, London, WM in 1878, under HRH the Duke of Albany. Exalted in Concord Chapter, No. 124, Durham, 1848; joined Philanthropic Chapter, No. 304, Leeds, 1863, its first Z.; and Chapter of St. James, No. 2, London, 1874, Z, 1862. Appointed Provincial Grand Chaplain of Durham in 1847; Provincial Grand Chaplain, West Yorkshire, 1860; and Provincial Grand Senior Warden, 1857; and Grand Chaplain of England, 1863. Chairman of the West Yorkshire Charity Committee, 1859-70.  A constant contributor to the Masonic press; editor of The London Freemason and the Masonic Magazine, 1873-86; author of Kenning's Defence of Freemasonry; The Sloane Manuscript; and other works.
Sir Walter Besant (1836-1901)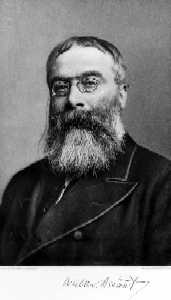 MA Cambridge, Secretary to the Palestine Exploration Fund.  He was initiated in Lodge of Harmony, No. 1143 (later, No. 841 and erased 1868), Port Louis, Mauritius, in 1862, and joined the Marquis of Dalhousie Lodge, No. 1159, London, in 1869, becoming WM in 1873.
Author of The French Humorists; Early French Poetry; Life of Coligny; Life of Whittington; Rabelais; Readings in Rabelais; The History of Jerusalem from Jesus to Saladin; joint author with James Rice of the Golden Butterfly; and author of Children of Gibeon and other novels.
John Paul Rylands (1846-1923)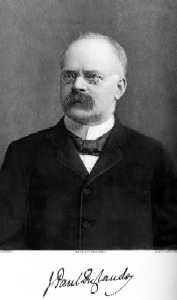 Born 1846, Barrister at Law, Northern Circuit, Fellow of the Society of Antiquaries.  Initiated in the Lodge of Faith and Unanimity, No. 417, Dorchester, in 1872; joined the Marquis of Lorne Lodge, No. 1354, Leigh, Lancashire, in 1879; and the Lodge of Lights, No. 148, Warrington, in 1880, where he served as JW the same year.  Was exalted in Chapter of Elias Ashmole, No. 148, in 1880. The author of Account of the Holcroft Family; Arms in Warrington Church; Lancashire Inquisitions Post Mortem; Cheshire and Lancashire Funeral Certificates; Visitations of Cheshire; Visitation of Dorset 1623; Genealogies of the Families of Bate and Kirkland; Genealogies of the Families of Culcheth and Risley; and numerous pamphlets and articles on Heraldic and Genealogical subjects.
Sisson Cooper Pratt (1844-1919)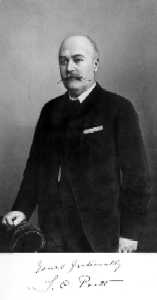 Born 1844, Major, Royal Artillery, PSC, Professor of Military History, RM Academy, Gold Medallist, RA Institution. He obtained his commission in June, 1863, served during the Bhootan Campaign of 1864-5, was present at the capture of Fort Dalimkote, Chumurchi and Nagoo, and the recapture of the Bala Pass. Appointed Assistant Field Engineer to the Left Brigade, Dooar Field Force; three times mentioned in despatches, Medal and Clasp. Served as District Staff Officer to the South Western District during 1867-8, passed through the Staff College in 1873, and held the appointment of Instructor in Tactics and Professor of Military History at the Royal Military College.  Initiated in the Bayard Lodge, No. 1615, London, in 1876, and subsequently joined the Kaisar-i-Hind and Moira Lodges.  Author of Field Artillery, its organization and Tactics; Military Law, its Procedure and Practice; Precis of the Franco-German War; Notes on Field Artillery; The Strategic Defence of Egypt; The Egyptian Campaign of 1801; Notes on Military History.
William James Hughan (1841-1911)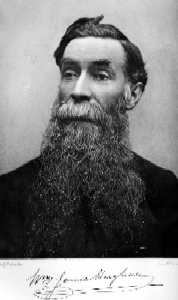 Born 1841, initiated in Lodge St. Aubyn, No. 954, Devonport, in 1863, joined the Phoenix Lodge, No. 331, Truro, in 1864, and Fortitude Lodge, No. 131, Truro, in 1866, serving as WM of the latter in 1868 and again in 1878.  He was exalted in Glasgow Chapter, No. 50 (SC), in 1865, and joined Kilwinning Chapter, No. 80 (SC), Ayr, in 1868, of which he became Z. in 1873.  An Hon. Member of many Home and Foreign Lodges and Societies, he was in 1880 made Hon. Senior GW of Grand Lodge of Quebec, an honour from which he withdrew in 1886.  In 1876 he was granted the Rank of Past SGW of Grand Lodge of Egypt, and was Grand Representative of the Grand Chapter of Pennsylvania from 1872.  Besides holding Past Rank as Grand Secretary in his own Province of Cornwall, he was in acknowledgment of his Masonic researches granted the rank of Past Senior Grand Deacon of England in 1874, declining at the same time the offered Past Rank in Grand Chapter, which he accepted in 1883, as PAssGSoj.
He was the editor of the Devon and Cornwall Masonic Calendar, 1865-8; originator and editor of Cornwall Masonic Directory, 1870-1887, and in addition to numerous communications to the Masonic journals of both hemispheres, the author of the following works: Constitutions of the Freemasons, 1869; History of Freemasonry in York, (Kingston Masonic Annual, 1871); Masonic Sketches, 1871; Old Charges of the British Freemasons, 1872; Memorials of the Masonic Union of December, 1813, 1874; Numerical and Medallic Masonic Register, 1878; Origin of the English Rite of Freemasonry, 1884; and numerous pamphlets.
George William Speth (1847-1901)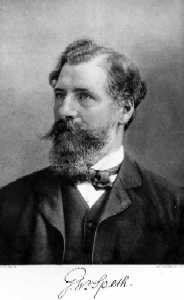 Born 1847, initiated in 1872 in the Lodge of Unity, No. 183, London, WM in 1876. Exalted in Sir Francis Burdett Chapter, No. 1503, Twickenham, in 1883.
Author of A History of the Lodge of Unity, No. 183, 1881, and Royal Freemasons, 1885; a frequent contributor to the Masonic Press of London and Philadelphia, and to Masonic Monthly.
Join the Q.C. Correspondence Circle
Join now
---
Make a Donation
Your support will allow us to extend the research material and research services currently provided. Thank you.