When and Where to Hear our Members
Members of Quatuor Coronati Lodge are available to give lectures nationally and internationally, and can be contacted directly or through QC via queries@quatuorcoronati.com or secretary@quatuorcoronati.com. Arrangements for accommodation and travel expenses etc. should be agreed in advance with the individual speaker. Many have been Prestonian Lecturers and all have a broad range of talks, interests and expertise.
QC Lectures on QCCC's YouTube Page
Lectures & Talks:
9 October: Ric Berman, '1723 and all that',
Masonic Hall, Manchester, Province of East Lancashire
10 October: Ric Berman: '1723 and all that',
Stockport, Province of Cheshire
9-12 October: Oscar Alleyne
Bermuda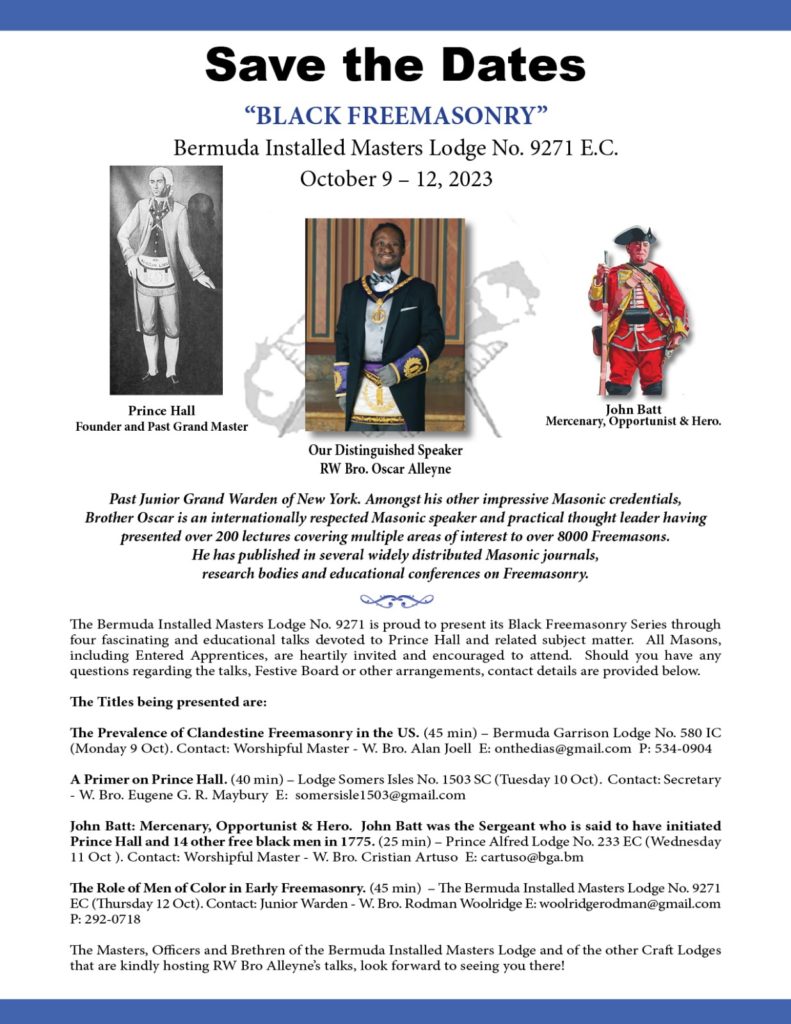 26 October: David Peck, 'Sir John Courtney Throckmorton:
A Catholic Freemason in Eighteenth-Century England'
Temple of Athene Lodge No. 9541, Harrow District Masonic Centre, Northwick Circle HA3 0EL
28 October: Oscar Alleyne, 'Our Masonic Code: Freemasonry's Social Contract'
Freemasons' Hall, Onitsha, Anambra State, Nigeria
30 October: Symposium
Anderson's Book of Constitutions and the British Isles
at Freemasons' Hall, Leicester
QC Speakers include:
John Belton, '"The Charge after Initiation" from the 1735 Pocket Companion'
Mike Karn, 'The Constitutions; Songs and Music'
Prof Aubrey Newman, 'The Pocket Handbooks'
31 October: Ric Berman, 'The Foundations of English Freemasonry – a true story'
Public Schools IM Lodge, FMH, London
2 November: Ric Berman, 'Inventing the Future'
Euclid IM Lodge, FMH, London
25 November: Ric Berman, 'Inventing the Future'
Research Lodge Ars Macionica nr. 30, Brussels, Belgium
Open Lectures on Freemasonry: 'OpenLFM' – a series of lectures which aims to increase the visibility and accessibility of Masonic Research. The lectures are open to everyone and can be viewed here.
Grand Lodge of California's Masonic Speaker Series: view here
London's Museum of Freemasonry is certainly worth a visit online and offline, including their Online Talks.  Click here to view a short film on the Museum / Freemasons' Hall.
Our friends at Rocky Mountain Mason in Colorado have regular podcasts on a variety of subjects: click to see what is available.
Join or Renew your Membership of Q.C.C.C.
Join or renew
---
Make a Donation
Your support will allow us to extend the research material and research services currently provided. Thank you.