Quatuor Coronati Lodge


– in association with the

Mid-Atlantic Convocation of Academic Lodges –
is proud to present its 2018 American Conference: 
'Freemasons in the Transatlantic World'
14 – 16 September 2018


at the George Washington Masonic National Memorial, Alexandria, VA
The conference is taking place at the outstanding George Washington Masonic National Memorial in Alexandria, Virginia, just across the Potomac River from Washington DC. The program includes two and a half days of lectures and discussions beginning in the morning of Friday, 14 September, and concluding on Sunday, 16 September. Attendees have the opportunity to attend a convivial dinner on Saturday evening, a Universal Lodge and talk on Masonic Symbolism on Friday evening, and a tour of DC.
Download and view the Conference Brochure.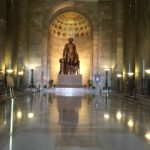 In addition to its function as a memorial and museum, the George Washington Masonic National Memorial contains two Masonic temples, a research library, and is a center for the performing arts. It is also an important regional landmark. The construction of the nine-story neoclassical structure began in 1922 and was completed a decade later. The building was erected and is maintained by the Freemasons of the United States in memory of George Washington and to preserve the history of American Freemasonry. Conference attendees have complimentary access to the Memorial throughout the weekend of the conference.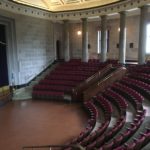 Information on transportation to and parking at the Memorial can be viewed here.
Click here for information on Hotel Accommodation in Alexandria. Please note that Airbnb also offers a wide selection of accommodation options in the Alexandria Old Town area. A free trolley bus travels along King Street, Alexandria.
Information on the community of Alexandria can be found here.
Tickets to the conference are available now!  Book your place!
If you have any difficulty with your booking, please email us at queries@quatuorcoronati.com.
Join or Renew your Membership of Q.C.C.C.
Join or renew
---
Make a Donation
Your support will allow us to extend the research material and research services currently provided. Thank you.