'Freemasons in the Transatlantic World'
Conference & Symposium at the George Washington Masonic National Memorial
14 – 16 September 2018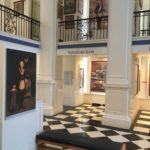 The Conference begins in the morning of Friday, 14 September, and concludes on Sunday, 16 September. Attendees have the opportunity to attend presentations given by a slate of world-class speakers; participate in a debate on the formation of the first Grand Lodge – 1717 vs. 1721; enjoy a convivial dinner on Saturday evening at Theismann's, an excellent local restaurant; witness a demonstration 'Universal Lodge' meeting; attend a talk on DC's Masonic symbolism; and privately tour the Memorial building.
The full Conference Program can be downloaded here  and the Conference Brochure here.
Dress code is smart / casual.  There will not be any tyled meetings on this occasion.
Despite the prospect of Hurricane Florence landing further down the coast, the weather forecast (as of September 11/12) is wet and breezy but otherwise ok: see the 10-day forecast here.
Please click for additional information on the venue and its surroundings.
If you have any questions, please email us at queries@quatuorcoronati.com.
We look forward to welcoming you.
Join or Renew your Membership of Q.C.C.C.
Join or renew
---
Make a Donation
Your support will allow us to extend the research material and research services currently provided. Thank you.